Vacaville Art Wine & Brew Festival 2007
with Special Guest Gene Odom
Ronnie Van Zant's close friend and Lynyrd Skynyrd's head of Security
Author of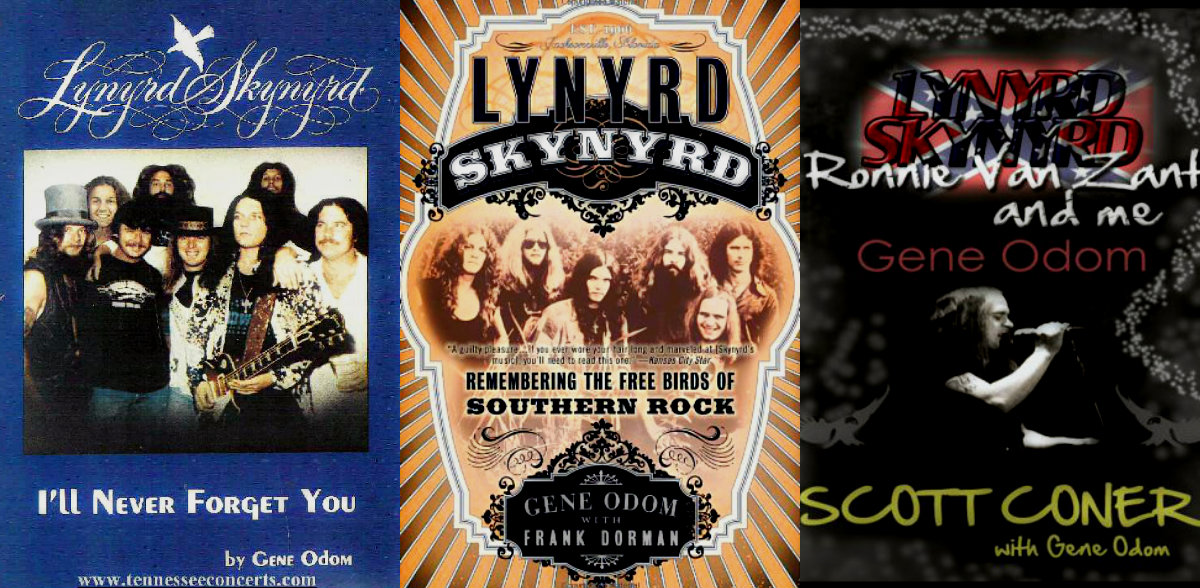 and a true frynd of ours.
Thank you Gene!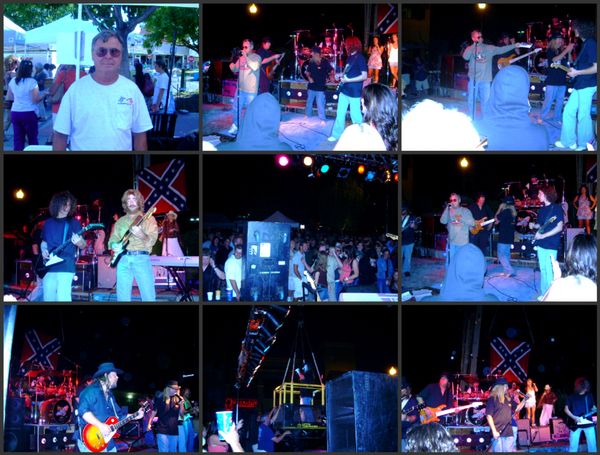 Photos courtesy of: Janet Mason
Gene flew out from Florida and stayed with us for four short days.  Skynnyn Lynnyrd was honored to have Gene attend a rehearsal, appear on stage during, and accompany us with tear-down after the show.

During the tear-down, we observed a sparkle in Gene's eye that seemed to us as if he felt something familiar - possibly reminiscent of years gone by when he was with the legendary band.   Although it was late after the show, Gene was energized and "ready-to-go" when it came to fetching the stage. It is our hope that maybe, just maybe...Gene was reminded of and felt connected to Lynyrd Skynyrd through us.  We cannot imagine a greater honor.  Perhaps we are just dreaming - hopeful that we were able to return that which he gave us...something extraordinary.   Only Gene would know.

Let me state without hesitation: Gene Odom is special - kind, generous, polite and humble, almost to a fault. Ronnie Van Zant and the band were blessed to have Gene amongst them...we shared the grace Gene carries with Lynyrd Skynyrd and learned something precious:

Greatness is not boastful, arrogant or pretentious. It is kind, considerate and reverent...it carries itself quietly and speaks softly yet moves masses with ease.

All of these qualities describe our experience with Gene Odom.

This band is better because of our time with him. We will, as best we can, share the greatness we experienced with our audiences.

We thank you Gene, you are a true frynd and we hope to see you again soon.

Sincerely,

Skynnyn Lynnyrd
Below are clips from various printed media referencing Skynnyn Lynnyrd. 

Please let us know if you encounter write-ups or critiques referencing Skynnyn Lynnyrd:     
Email scans, copy or references to:
skynnynlynnyrd@gmail.com

LIVE ON THE BOULEVARD, SKYNNYN LYNNYRD  August 29, 2013
 
This was an unbelievable night. There are 9 members of this band, and they have an enormous amount of gear. In fact, they all showed up in their 40' tour bus with all their gear stored below it. Every person in this band was a delight to work with. Unfortunately, their power requirements are more than a lot of places can supply and we blew through the circuits 3 times. Really glad the El Dorado Hills crowd and the band were all so cool. The encore song was of course, Free Bird. I will never forget the ending of the song and my hat is off to Marc Swartz, their drummer. I have posted the link to YouTube to see the end part. I can't even explain it. Anyway, we'd love to work with this enormous, thunderous and awesome band again.