STAGE PLOT & LAYOUT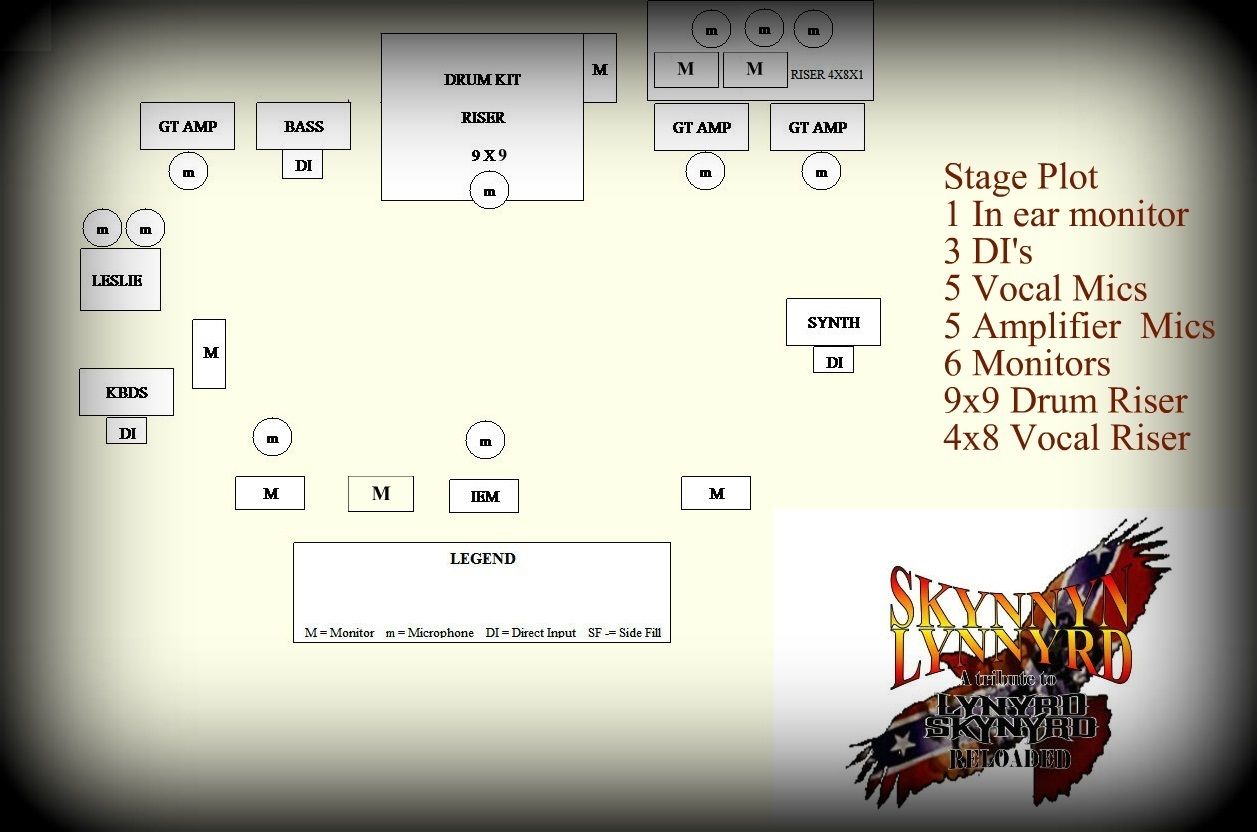 1 Condnser Microphones – Drum Overhead – Cymbals
1 Condenser Microphone – Hi-Hat
1 Kick Drum Microphone - AKG D112
1 Snare Drum Microphone
3 Tom-Tom Microphones
3 Instrument Microphones – Guitars – Shure M-57 or Equivalent
5 Vocal Microphones – Shure M-58 or Equivalent
2 Direct Input (DIs) – Keyboards - Unbalanced TRS to Balanced XLR
19 Mixer Channels - 21 Minimum with 4 Aux sends; 24 preferred
4 Wedge Monitors – 4 - Stage left, center, right + 1 Drums
2 Reverse X (Side) Fills – Large Stage - L mix of Rt, Rt mix of L
Active crossover Mains required. Consumer grade systems are not acceptable.
31 Band Equalization is required for indoor venue Mains.
Power requirements are dependent upon size of venue.
No FOH effects required.
Pro Sound System available upon reqest.

Inputs 25 Channel / 12 AUX 


  
| | | |
| --- | --- | --- |
|  CHANNEL#   |  SOURCE  |  NOTES  |
|   1.  |  VOCAL STAR   |  +COMP  |
|   2.  |  VOCAL BKGD  |    |
|   3.  |  VOCAL BKGD  |    |
|   4.  |  VOCAL BKGD  |    |
|   5.  |  VOCAL BASS  |  FOH LEFT  |
|   6.  |  GUITAR  |  FOH LEFT  |
|   7.  |  GUITAR  |  FOH CENTER  |
|   8.  |  GUITAR  |  FOH RIGHT  |
|   9.  |  BASS GUITAR  |    |
|  10.  |  SPARE  |    |
|  11.  |  KICK  |  +75 Hz + 2.5 KHz +COMP  |
|  12.  |  SNARE  |    |
|  13.  |  TOM 1  |    |
|  14.  |  TOM 2  |    |
|  15.  |  TOM 3  |    |
|  16.  |  TOM 4  |    |
|  17.  |  TOM 5  |    |
|  18.  |  HiHAT   |  -> 150 Hz  |
|  19.  |  OVERHEAD  |  -> 150 Hz  |
|  20.  |  PIANO  |    |
|  21.  |  LESLIE LOW  |  -> 150 Hz  |
|  22.  |  LESLIE HIGH  |    |
|  23.  |  SYNTH  |    |
|  24.  |  CD IN LEFT  |    |
|  25.  |  CD IN RIGHT  |    |
|    |    |    |
|  AUX 1  |  WEDGE STAGE LEFT  |    |
|  AUX 2  |  WEDGE STAGE RIGHT  |    |
|  AUX 3  |  WEDGE CENTER   |    |
|  AUX 4  |  WEDGE CENTER  |    |
|  AUX 5  |  SUB - DRUMS  |    |
|  AUX 6  |  WEDGE DRUMS  |    |
|  AUX 7  |  WEDGE PIANO  |    |
|  AUX 8  |  SUB  |  FOH  |
|  AUX 9  |  VOCAL - STAR  |  IEM  |
|  AUX 10  |  VOCALS (3)  BkUp  |  2 WEDGE MONITORS  |
|  AUX 11  |  EFFECT  |  DELAY  |
|  AUX 12  |  EFFECT  |  CHORUS or other  |